ECKART 2020 FOR EXCELLENT CULINARY ART: Pierre Gagnaire & Johannes Nuding
Pierre Gagnaire is one of the most innovative and original chefs today. With his futuristic visions that offer heavenly tastes and a ballet of colors, he is always ahead of his time. His cooking is unclassifiable – he has reinterpreted the kitchen. Accordingly, he is admired for his dazzling combinations, but he also provokes controversy, but never meets with indifference. In his restaurant in St. Étienne, which opened in 1981, he cooks for himself a worldwide reputation. His cuisine is based on tradition and skilfully plays with uninhibitedly contradictory tastes, textures and ingredients. Gagnaire cooks highly creatively and with great attention to detail. He makes no compromises in the kitchen; he and his team are committed to excellence in every respect. At the end of 1996, Gagnaire made a new start in Paris, experienced a brilliant rise, and today over 20 restaurants in eight countries bear his name, including the "Pierre Gagnaire" in Paris and the "sketch" in London, which has three Michelin stars.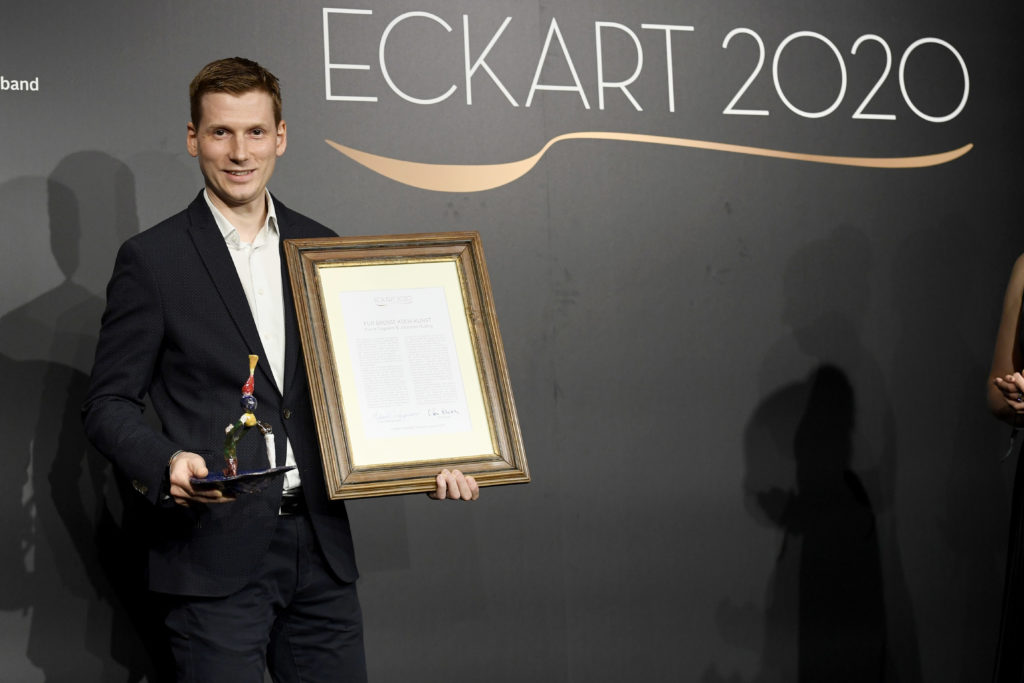 The latter is a stroke of luck. It is founded in partnership with one of the most talented chefs of the present: Johannes Nuding, who comes from Tyrol. The young, inquisitive chef will initially work for Joël Robuchon, later moving to Gagnaire, where he will be in charge of the "sketch" in 2014. Inspired by their joint work, Nuding uses the carte blanche, develops his own signature and takes the restaurant, which has been in existence since 2003, to a new level. In 2019 he is awarded three Michelin stars – the first Austrian chef since Eckart Witzigmann. Nuding continues to develop French cuisine and skilfully integrates regional elements from his Austrian homeland.
Gagnaire and Nuding offer their guests an extravagant, luxurious, whimsical and theatrical experience that appeals to all senses. The teamwork of the two sensitive individualists is a unique exception: it gives new, forward-looking impulses to the art of cooking and creates an incomparable experience.
ECKART 2020 FOR INNOVATION: Norbert Niederkofler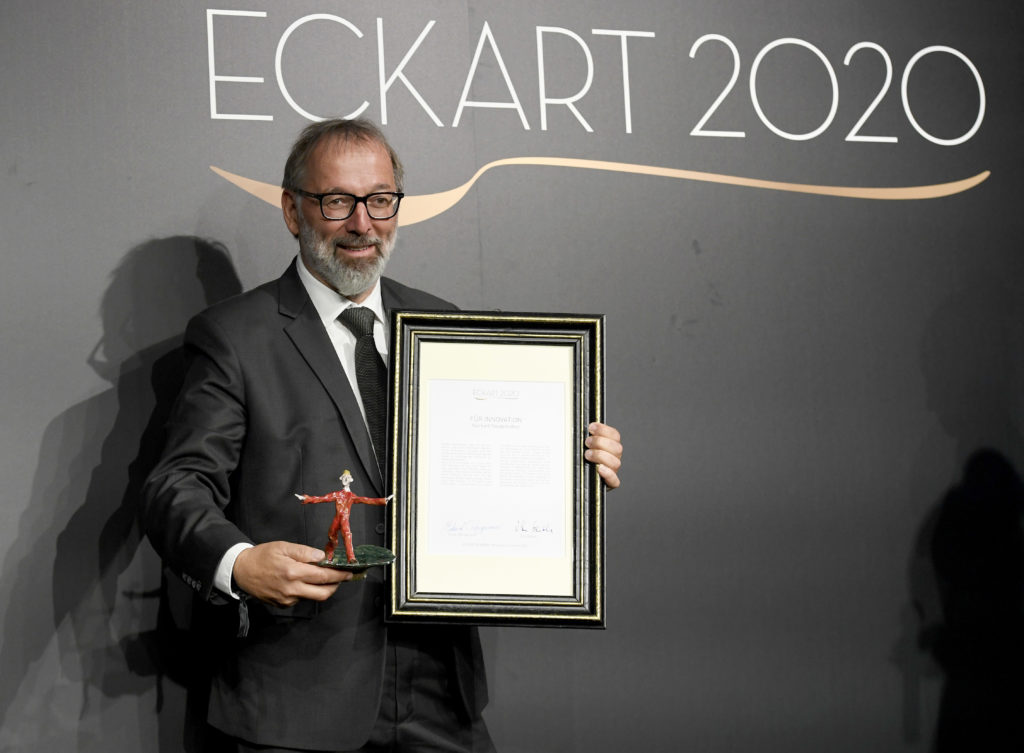 Norbert Niederkofler stands for the most modern and currently most innovative regional cuisine. Consistently regional and fully utilized products of the best quality form the basis of his culinary art.
His years abroad, in Zurich, Milan, Munich and New York, have led him to rediscover his roots: "my country, nature and all its treasures". In his work and style, the chef follows the "rhythm of nature" and develops his dishes "always around the product". He puts this credo into practice in his restaurant "St. Hubertus" and in numerous projects. Norbert Niederkofler's alpine cuisine "Cook the Mountain" tries to express the region, the traditional agriculture, the natural quality of the products and presents them with care and lightness. The result is a modern cuisine at the highest level, rooted in the region and the only one in South Tyrol to be decorated with three Michelin stars.
ECKART 2020 FOR CREATIVE RESPONSIBILITY: #kochenfuerhelden, Ilona Scholl & Maximilian Strohe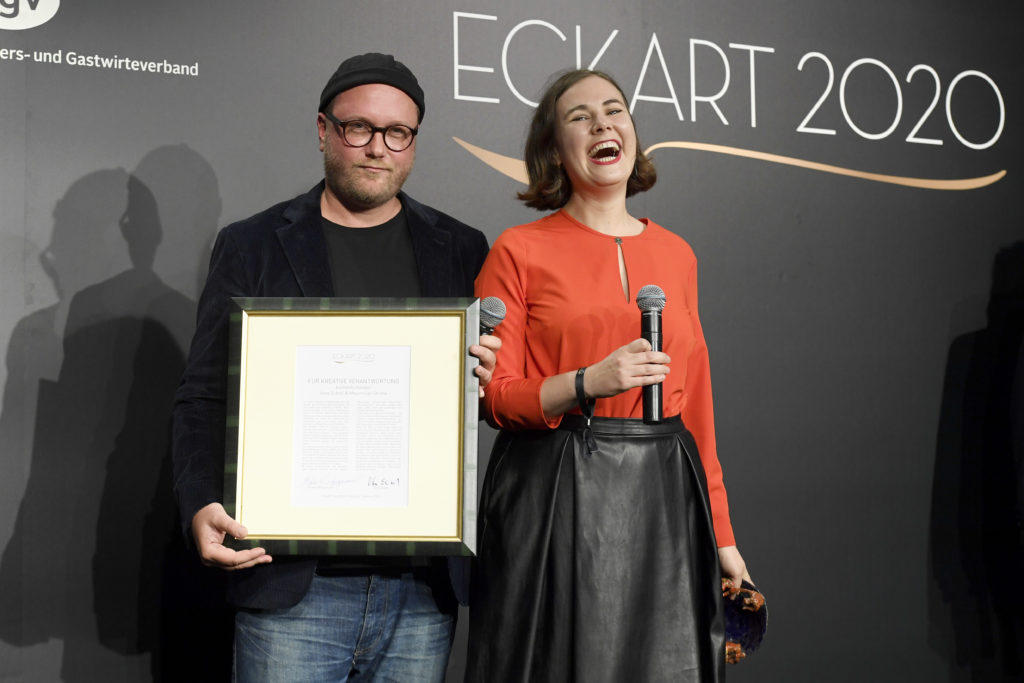 In crises, people encourage us who develop creative ideas to help themselves and others. Such activities are even more impressive when they overcome boundaries and find new ways. This is life culture, which is especially necessary when circumstances throw people back to themselves and their elementary needs.
The ECKART 2020 for Creative Responsibility therefore goes to people who dared to take such steps and supported them during the pandemic that broke out in 2019. Restaurant manager Ilona Scholl and chef Maximilian Strohe, whose Michelin-starred restaurant "tulus lotrek" in Berlin is closed during the peak phase of the pandemic, as is the entire catering industry, are launching the "#kochenfürhelden" campaign. With good, wholesome and high-quality food, they take the term "restaurant literally and "restore" those people "who ensure that our lives can continue under the current circumstances". Meanwhile, "#kochenfürhelden", which sees itself as the "grassroots movement" of restaurateurs in times of the Corona crisis", is the largest relief action, which is joined by over 100 restaurants.when the world goes off the rails, hardly anything is as important as food. The breathing space that a good meal gives to those who are in the front line is much more than food: it is one of the most important achievements of civilization. Moreover, when people who don't know top gastronomy are captivated by the skills of top chefs – and they in turn get to know people who don't usually visit their restaurants – it promotes some of the most important core values that modern societies need today more than ever: respect, gratitude and cohesion.
ECKART 2020 ART OF LIVING : Myrtha Zierock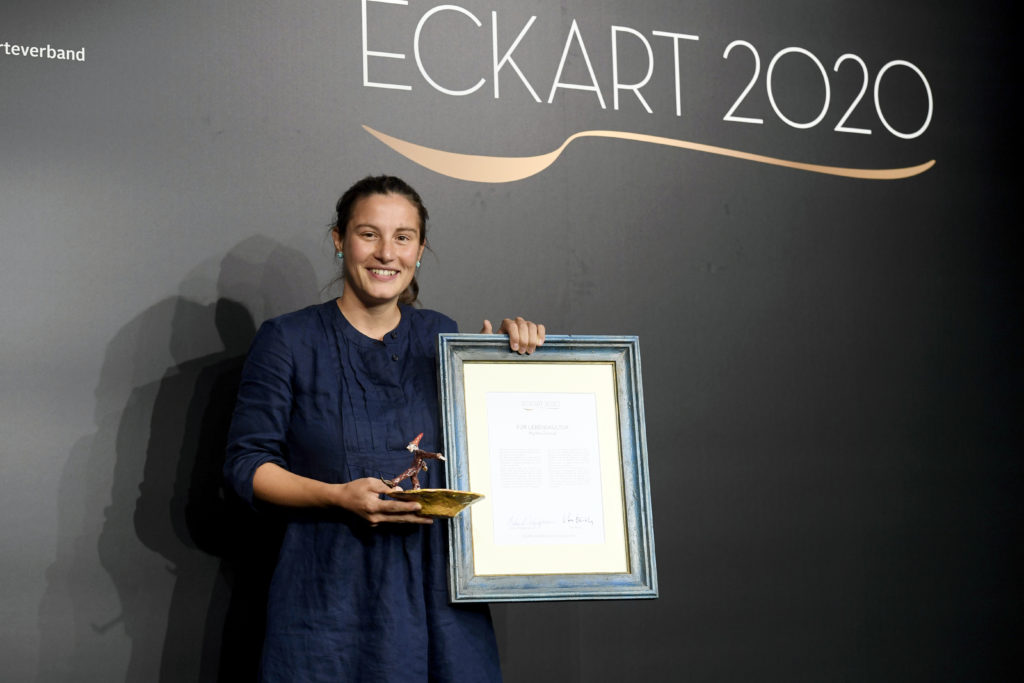 Myrtha Zierock reinvents agriculture. She makes a virtue of the scarce soil in South Tyrol and Trentino. She gets the idea for it during her studies in Canada: there the short vegetation and growth phases must be used to the maximum. At home she grows salads and vegetables between the vines. This is time-consuming and costly, but produces products of first-class quality. She markets these herself, sets up a farm market and sells her products directly to numerous cooks. In dialogue with you, she improves and refines her offer. The demand is increasing, but instead of delivering the goods over long distances, she exports the method and enables interested parties in other regions to adapt their experience.
Myrtha Zierock, with her start-up in the vineyard, is the driving force behind a new, sustainable approach to agriculture. She radically focuses on quality, modernizes traditional methods and experiences and initiates the network of sustainable agriculture through her export. people encourage us when they creatively take on challenges and develop creative ideas to help themselves and others. Such actions receive high radiant emittance by humans, who attained considerable popularity and influence with their abilities.
ECKART 2020 PRIX d'EXEPTION: Tim Mälzer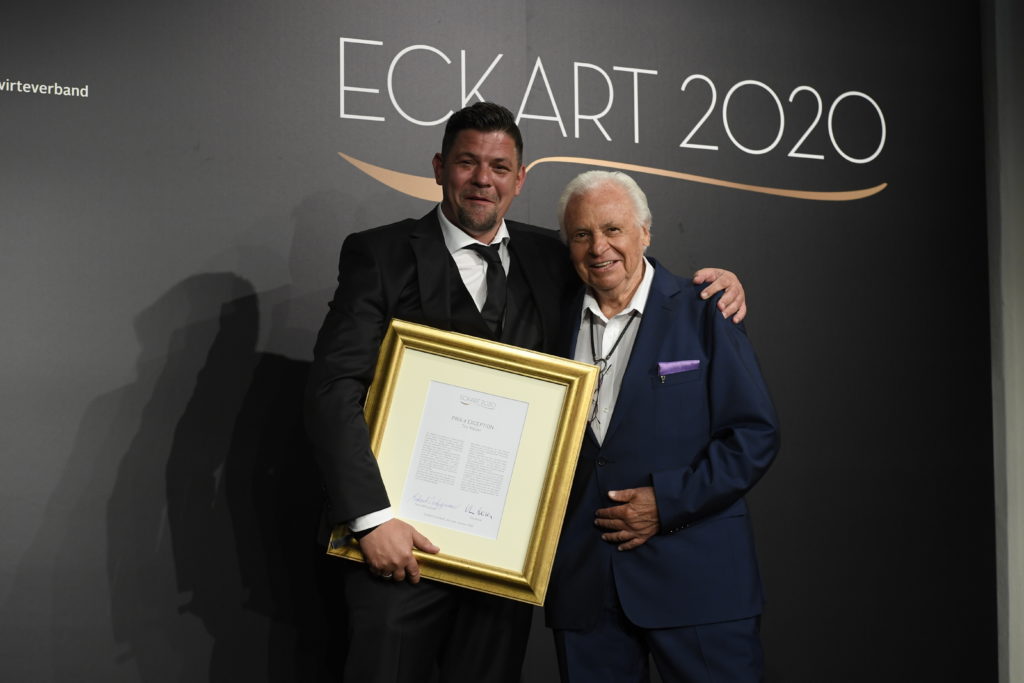 Tim Mälzer makes the art of cooking known to a wide audience through his television broadcasts. When in March 2020 all gastronomic businesses have to close due to the pandemic, he becomes the most powerful advocate of the threatened and thoroughly systemically important gastronomy. In several widespread statements, he not only draws attention to the situation, but also speaks personally to those responsible and opens their eyes. His attitude is particularly effective because Tim Mälzer succeeds in combining strong arguments with authentic emotionality. Tim Mälzer doesn't stop at words: he also supports those who are particularly burdened. He puts his skills and his team at the service of "#kochenfürhelden", brings the campaign to Hamburg and supplies hospitals, pharmacies or supermarkets.
The ECKART 2020 PRIX d'ECEPTION goes to Tim Mälzer because he is courageous and committed to making himself their strongest advocate in a crisis that is existential for the catering industry. In doing so, he reaches a large audience as well as those responsible, and ensures that gastronomy is perceived for what it is: one of the most important achievements of modern civilization
ECKART 2020 ALUMNI: Carlo Petrini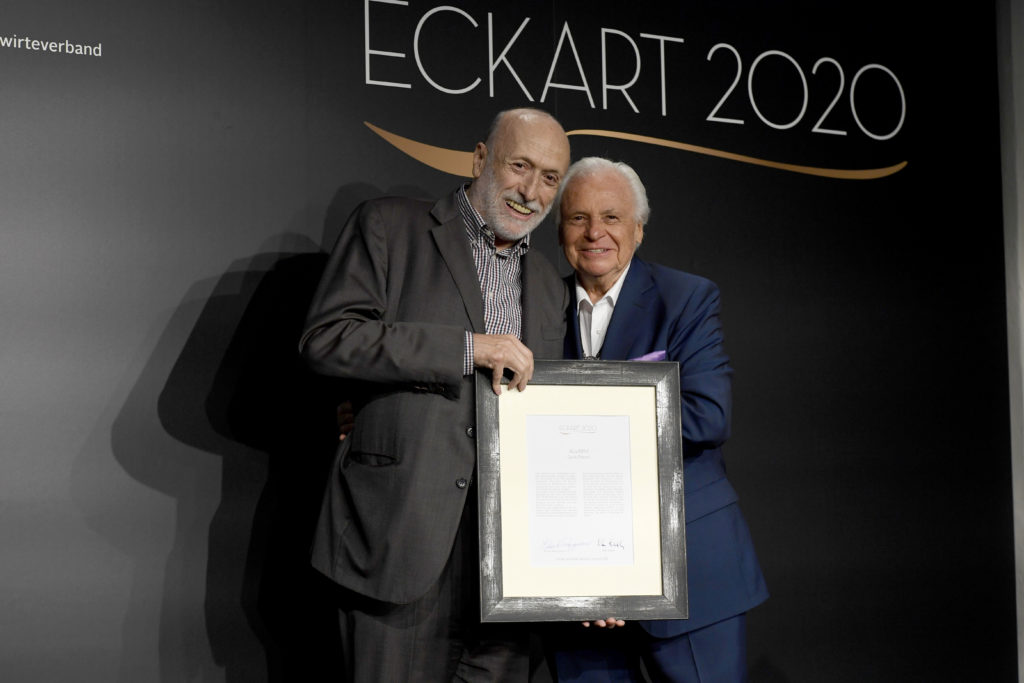 Carlo Petrini is an intellectual practitioner. Like no other he combines both. His masterpiece is the Slow Food organization founded in 1986. It sees industrialized food as a misguided development and opposes it with a new, simple and comprehensive concept. "Good, clean and fair" sums up the credo of the movement, which now has over 100,000 members in a good 150 countries on all continents. Its goal is nothing less than a revolution in agriculture and nutrition.
The organization builds on the discussion about taste as a cultural, individual and social perception, on the right to enjoy and on quality as its prerequisite. Carlo Petrini is still one of the most important and untiring driving forces behind this movement today, and he has been a key figure in the development of this movement ever since. This is proven by his numerous other activities, such as the creation of the "Salone del Gusto" of the "Università di Scienze Gastronomiche", the cheese festival "Cheese" in Bra or the farmers' network "Terra Madre".Carlo Petrini reconciles opposites with his creative dialectic, thus changing our consciousness and showing us how we ourselves can create a new and better reality.